One of the best parts of camping is being able to explore a different environment than your home or backyard. The sights, sounds, and smells are all new and exciting. This fresh perspective rejuvenates the soul and body, precisely what most people get from camping trips.
Using an electric bike on your next camping trip will make exploring your campsite and neighboring trails easy and rewarding. You can cover more ground, visit more sites, and rest easy knowing that you have the option to pedal or just let the motor and throttle drive you.
However, you may wonder which features are most helpful and how to choose the best electric bike for camping. Below we've detailed 5 crucial topics to consider when bicycle camping. Whether you want to sit around a campfire roasting marshmallows for an occasional ride or explore hiking trails away from your campsite as the sun rises, these features should help you choose an electric bike for camping.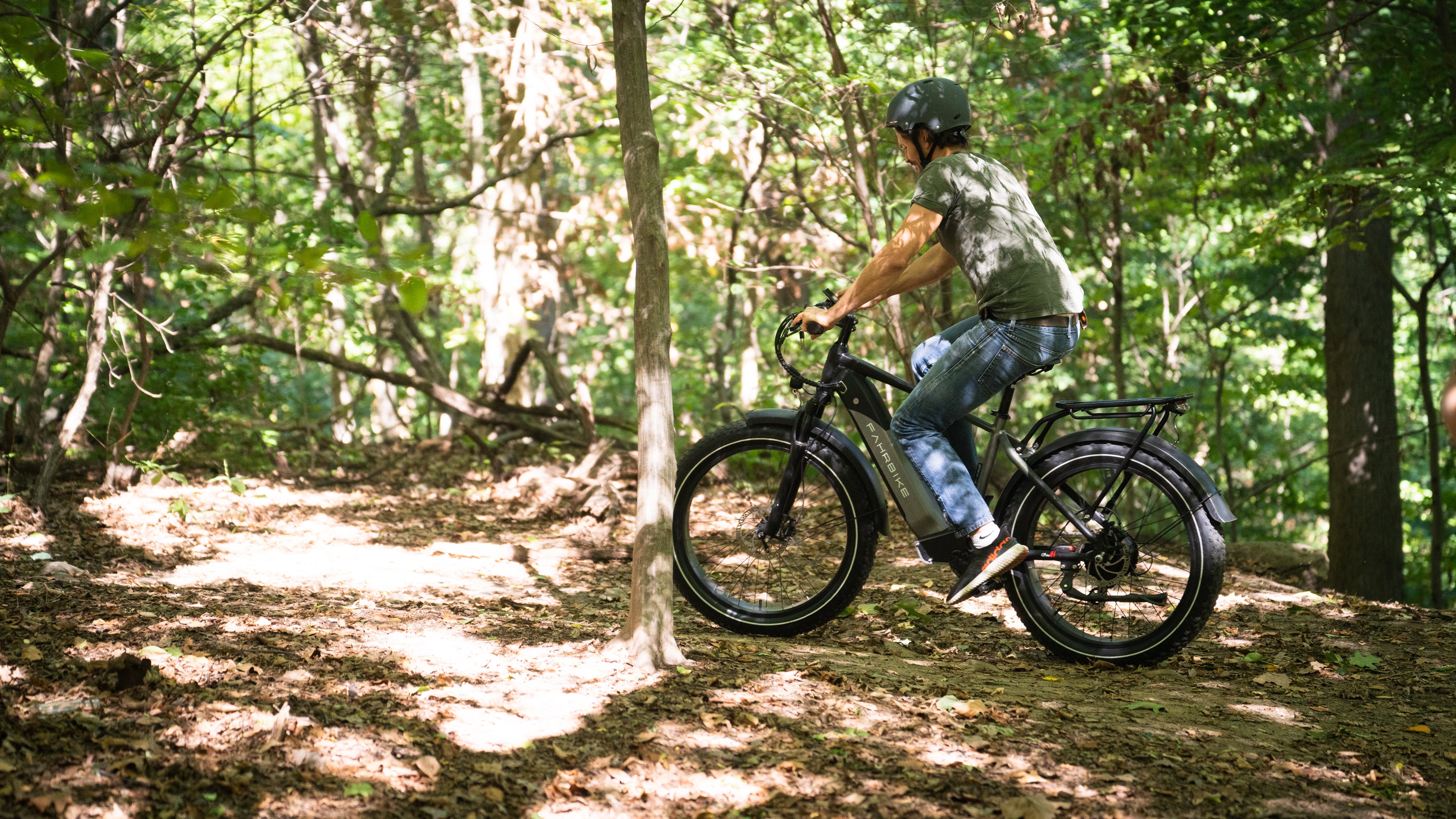 Battery Life
In general, battery life is one of the most important topics to consider when choosing an electric bike. It is even more critical when selecting a camping bike. When camping, you may not be able to use or only have access to a limited number of charging ports, so you need a battery that will last the entire trip.
Not all e-bike batteries are created equal. Some will only provide support for 20 miles and may allow you to use pedals to ride back to camp if your battery runs out. Thankfully, some available bikes, like our Fahrbike Terra, will give you 45-60 miles of range on a single charge. Battery life is affected by the rider's weight, the amount of cargo on the bike, and the level of pedal assistance the rider chooses.
Another way to extend battery life is to carry a fully charged backup battery pack for campgrounds where there may not be an outlet to charge the bike. Fahrbike batteries can be removed without disconnecting wires and switched from a low battery to a fully charged battery for longer rides. If you don't want to bring extra batteries, call before booking a campsite to ensure there is a charging option. Many parks that accommodate caravans are equipped with electric connectors. They may cost money, but being able to add battery capacity to your adventure is worth it.
Motor
Maybe you want to make it to sunrise or sunset, then timing is critical. So you'll need enough power to get to your camping destination on time. Maybe you have some extra gear available for the campsite you're towing. Whatever the case, it's good to have enough power to handle it. For this, your electric bike needs at least a 750-watt motor. This helps maintain speed, accelerate quickly, and climb steep hills or trails.
Most electric mountain bikes have between 750 and 1500 watts of power. The most cost-effective and energy-efficient models tend to be 750 watts because they will give you the necessary speed without draining the battery too quickly. Fahrbike bikes are known for their speed and launch when you step on the gas. It's hard to describe the sheer joy you get from zipping through the woods on an electric bike.
Another benefit of Fahrbike bikes is the ability to lower your top speed to ensure you comply with all state and park laws regarding speed limits. Turn on the settings and manually reduce your top speed to level 3, and you'll be able to access more areas legally.
Waterproofness
No matter which bike you choose, you must ensure it's waterproof. You never know what kind of weather you're going to encounter while camping. The last thing you want is a downpour to ruin your new e-bike. Humidity is not suitable for cheap electric bikes, especially if you are in the woods or near lakes and rivers.
Most high-quality electric bikes are waterproof to some degree. However, you must ensure your bike is well sealed and can run in light to moderate rain. An e-bike should not go through deep puddles or rivers because the electronics could be damaged, but there should be no problems in light rain. If you expect some rainfall on your camping trip, take extra precautions, such as using rust-proof spray or covering the e-bike's LCD screen.
Tires
One of the best features of an e-bike like the Vulcanus is the fat tires that make it easy to tackle all terrain. Wider tires not only provide more comfort on rough, muddy trails and roads, but they also provide more traction. When using fat tires, mud, rain, snow, or sand are very passable.
With thinner conventional tires, walking on some of the most remote campsites will be difficult. With fat tires, these challenging trails become a breeze. One tip for improving traction and riding performance on sand or snow is slightly reducing tire pressure.
Noise
One of the most significant benefits of camping is the peace you can experience. Camping is one of the few vacations where you can return to nature, away from the noise and commotion of the city and streets. Don't spoil the forest's peace with the vast engines of ATVs or mopeds. Electric bikes' low-noise motors and battery systems are designed to be as quiet as possible. Your campground neighbors may not even know you're riding an e-bike. The softer your vehicle, the more likely you will see rare animals like deer or foxes.
As you can see, there are many features to consider when choosing the best e-bike for camping. Long battery life, high power, a rainproof frame, wide tires, and a quiet motor combine to provide you with the best bike camping experience. With 5 different speed ratings, the  Fahrbike Terra is a favorite for outdoor enthusiasts. Have fun camping!