Whether you're a casual biker, a mountain biker, or someone who simply wants to take a bike on the bus to go from point A to point B, there are different electric bikes for all types of riders. With so many models out there, it may seem like an overwhelming task to find the perfect electric bike for you. But don't worry! In this article, we break down the most important factors for choosing an electric bike that's right for you.
What is an Electric Bike?
Firstly let's take a look at what exactly is an electric bike. Basically, it is a bicycle with an electric motor to assist the rider. Electric bikes have become increasingly popular in recent years as advances in technology have made them more affordable and easier to use.
There are three main types of electric bikes: pedal-assist, throttle-on-demand, and fully electric. Pedal-assist electric bikes provide power when you pedal, making it easier to ride up hills or against the wind. Throttle-on-demand electric bikes have a throttle that you can use at any time, similar to a motorcycle. Full electric bikes are like traditional bicycles but with a battery and motor that allow you to ride without pedaling at all. With Farhbike's bikes, you can basically use all the above-mentioned modes depending on how you want to ride
Why electric bikes have gotten so popular because they can be great for people who want a little extra help getting around, those who want to save on gas or parking costs, or those who simply enjoy riding a bike but don't want to deal with the effort of pedaling all the time. In short, they fit the needs of many people from commuters to joy riders.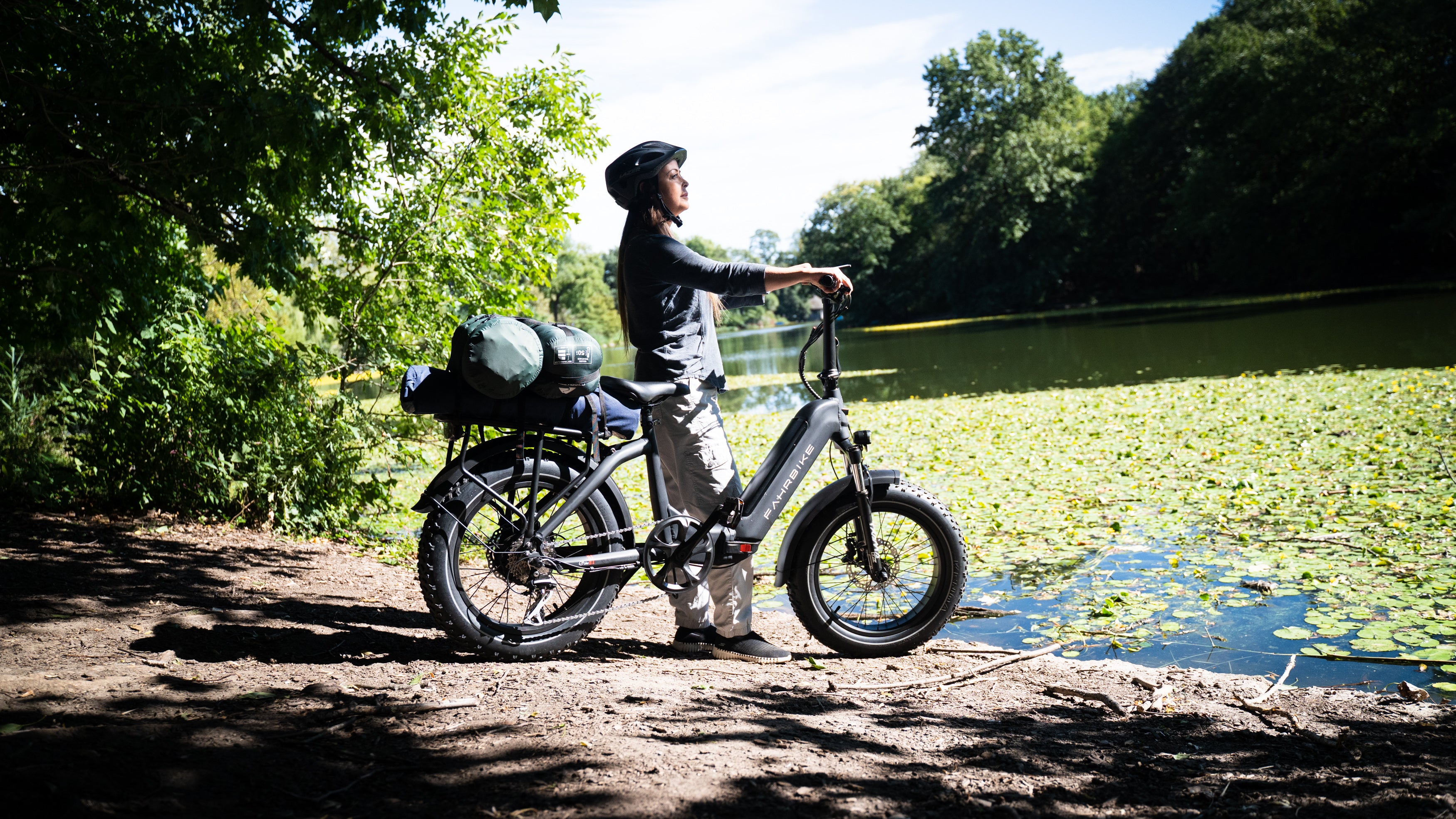 Types and motors of electric bikes
Outside the pedaling assistant modes, there are different subcategories related to the motors and functionality of the bikes which are:
Hub motors: Hub motors are located in the center of the wheel and provide power to the wheel directly. This makes them very efficient and robust.
Mid-drive motors: Mid-drive motors are located near the pedals and provide power to the drivetrain, which then turns the wheels. This makes them easy to control but less efficient than hub motors.
Folding electric bikes: These bikes are designed to be compact and easy to store in your apartment or car trunk like Fahrbike Bolt.
Cargo electric bikes: A more and more popular type that's just perfect for longer trips where you need to bring some gear with you or just for casual shopping for the family where you need hooks and space to store your belongings. Farhbike Bolt is foldable but also perfect for some errand running.
Fat Tire All Terrain bikes: The name says it all. Bikes like Farhbike Terra are fitted with big 26"x4" tires that make them perfect for riding on snow, sand, gravel, and basically anything. The choice for adventurers who spend most of their time off-road.
City electric bikes: The common bike that everyone thinks of when they think about bikes. The classic city bike is fitted with a motor.
Road electric bikes: Road racing bikes with motors. Blazingly fast with their slim slick tires.
How to Choose the Best Electric Bike for you
The best electric bike for you is the one that fits your needs the most. There are many different types of electric bikes on the market, so it's important to do your research before making a purchase. Here are some things to consider when choosing an electric bike:
The features you want
Your budget
The distance you plan on riding
The size of the bike (frame and wheels)
Looking at these factors and the types of e-bikes that exist you should have an idea of where you are leaning to.
Many of the commuters would say the main feature is that it's great in the city. For that our top pick is Farhbike Cruz which is just amazing to ride even if we say so ourselves. Solid and unique frame delivers the right balance many other more traditional e-bikes just can't match.
You might have special needs though, like the space you can use to store the bike at home or office. If you need this feature the Fahrbike Bolt is a great choice as it folds. It's really quick to take out and store by just using the locking mechanism right at the center of the bike.
Fahrbike Roadster73 is for fun. It's a moped-style e-bike that's super agile and fun to ride. Like classic motorbikes, it is more about attitude and fun than serious commuting. Sure you can ride it to get some groceries but prepare to look extra cool when doing it!
Lastly, if you are one of those adventurers and outdoor enthusiasts the choice is pretty clear. Fahrbike Terra offers you everything that you need for those off-roading adventures. High load capacity for your gear and big fat tires combined with a powerful motor that keeps you and your gear going even for long distances.
Conclusion
We hope this guide has helped you understand a little more about electric bikes and how to choose the best one for you. With so many different types of electric bikes on the market, it can be tough to know where to start. But by taking into account your own personal needs and preferences, you should be able to find an electric bike that's perfect for you. So what are you waiting for? Get out there and start exploring the world on two wheels!